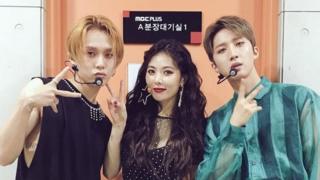 K-pop: HyunA and E'Dawn relationship causes controversy By Tom Gerken, UGC & Social News And BBC Korean Service These are external links and will open in a new window Image caption E'Dawn (left) and HyunA (middle) formed K-pop band Triple H with Hui (right) The head of a major music label in South Korea has denied reports HyunA and E'Dawn, two members of the pop trio Triple H, have been sacked after revealing their relationship. Cube Entertainment CEO Shin Dae-Nam released a statement after 720,000 tweets in 10 hours mentioned the K-pop stars' supposed sacking. "We've yet to make an official decision on the rumour that HyunA and E'Dawn would be ousted," reads the statement on Naver, a major South Korean website. "We are still discussing it, it is not a confirmed decision. Since the opinions of the artists are also important, this should be deliberately decided through the process of collecting opinions." Many K-pop artists – often known as "idols" – are not allowed to enter into any form of romantic relationship while under contract. Media playback is unsupported on your device Media captionWhat do non-Koreans love about K-pop? South Korean media previously reported that HyunA (Kim Hyun-ah) and E'Dawn (Kim Hyo-jong) were sacked by their label after it emerged the pair had been in a secret relationship for over two years. HyunA has had a successful solo career and E'Dawn is also known as a member of boy band Pentagon. The pair formed Triple H as a side project with fellow Pentagon singer Hui.
https://www.bbc.co.uk/news/blogs-trending-45508602
Some Professional Guidance On Vital Aspects For
6.30pm update: American pastor should have already been freed, says Trump President Donald Trump has said that an American pastor who is currently imprisoned in Turkey should have been released "a long time ago".   Mr Trump's comments come after a court in Turkey's western Izmir province rejected an appeal to release Andrew Brunson from house arrest. Speaking at the White House, Mr Trump said: "They should have given him back a long time ago, and Turkey has in my opinion acted very, very badly. "So, we haven't seen the last of that. We are not going to take it sitting down. They can't take our people." 5.30pm update: Emerging market equities pushed lower by steepening Turkish lira Another steep decline in the Turkish lira on Friday pushed emerging market equities lower and kept other world markets cautious, overshadowing hopes that an upcoming US-China meeting would relieve concerns over trade tariffs. MSCI's All-Country World index, which tracks shares in 47 countries, fell less than 0.1 per cent, leaving the index on track for its third straight weekly decline. A Chinese delegation led by Vice Minister of Commerce, Wang Shouwen, will meet US representatives, China's Ministry of Commerce said in a statement, with the Wall Street Journal reporting that talks will take place in Washington on August 21 and 22. The world's two largest economies are due to slap tariffs on billions of dollars of each other's goods on August 23, in addition to levies that took effect on July 6. 4.30pm update: Trump: 'We are not going to take it sitting down' Speaking on the American pastor detained in Turkey, President Donald Trump has said "we are not going to take it sitting down". He added: "We haven't seen the last of that." 3.30pm update: Turkish lira loses close to 40 per cent of value against dollar The Turkish lira has lost nearly 40 per cent of its value against the dollar this year, hit by Ankara's worsening rift with Washington and investor alarm about President Tayyip Erdogan's influence over monetary policy. Mr Erdogan, a self-described "enemy of interest rates", wants to lower borrowing costs despite high inflation.
For the original version including any supplementary images or video, visit https://www.express.co.uk/news/world/1004688/turkish-lira-latest-news-turkey-crisis-donald-trump-tariffs